A look back at 2022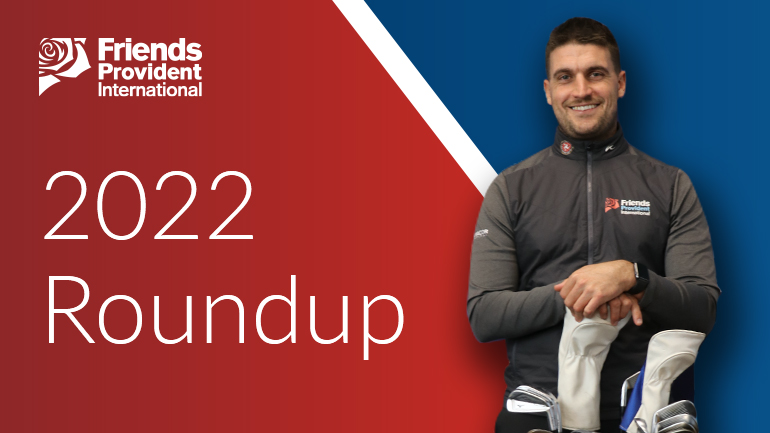 Having come back from Q School late last month after a busy end to the 2022 season, I thought I would take some time to reflect before penning my final blog of what has been a pretty difficult season.
As with any season out on the DP World Tour and Challenge Tour, you can have a difficult season but redeem yourself with a good Qualifying School for the following season. This isn't the ideal way to do things, but with my fairly disappointing Challenge Tour season finished, it was my best hope to retain or improve my category for 2023.
I played some of my better golf this season to get through Stage Two of Q-School and begun to feel like things were finally starting to line up for me. I started solidly at the marathon that is Final Stage Q-School (6 rounds as opposed to the normal 4) and got myself in position to play all six rounds and thus retain my category on both the DPWT and Challenge Tour, but with the pressure ramped up I didn't make the birdie I needed and instead ended up making a couple of bogies coming in.
This meant I missed the cut and as such will have a lesser category on Challenge Tour in 2023, but this is more than I had heading in to that stage of the season!
As always, I started the 2022 season with lots of confidence and felt like my game was in good shape after a lot of off-season preparation. The competition level, however, is always high and you get thrown straight in at the deep end by starting the season in South Africa where the events are run alongside the South African local tour, towards the back end of their season – so they're competitively sharper than the Europeans who have gone months without competing!
I felt that I didn't really perform to my potential during the first half of the year on the Challenge Tour and, ironically, it was only when I got the opportunity to play a concerted run of DP World Tour events in the summer that I began to play the sort of golf I know I can.
Even here though, it seemed like the results didn't quite happen.
I could play well for up to one, two or even three rounds, but never put a full tournament together. This was doubly frustrating as I played myself onto a few leaderboards in the early rounds, particularly at the Hero Open in Scotland where I had one of my better rounds of the season, including a near European Tour record of 7 consecutive birdies.
I really thought this was the start of a turnaround in fortunes, but I still wasn't able to translate this into results for the back-end of the Challenge Tour season. Although I made it through to the Final Stage of Q School, I'll be returning to the Challenge Tour in 2023 with a reduced playing category which wasn't what I set out to achieve at the beginning of the season.
However, that is golf and just like life, there are plenty of ups and downs so you can only accept the past and deal with the situation you now have in front of you. Despite the apparent half-step backward, I feel another year wiser and better informed as to what I need to do to perform to a higher standard, making me excited and determined to make 2023 a successful season.
I'd like to sign off the year with a huge thank you to everyone who supported me in 2022. Thank you to all of those on the Island who sent messages or just followed the results, and the sponsors and benefactors who helped ensure that I could concentrate on playing golf.
I'd especially like to thank my equipment sponsors, Mizuno, and my headline commercial sponsors, Friends Provident International and RL360.
Once again, it has been a privilege to wear their logos and be associated with their business throughout the year. Despite the difficult year and a reduced playing category for 2023, I am hugely grateful to them for sticking with me for 2023 as I look to rebound from this year's setbacks and play myself back onto the DP World Tour where I believe I belong.
Share this article:
Follow Tom on social media