The off-season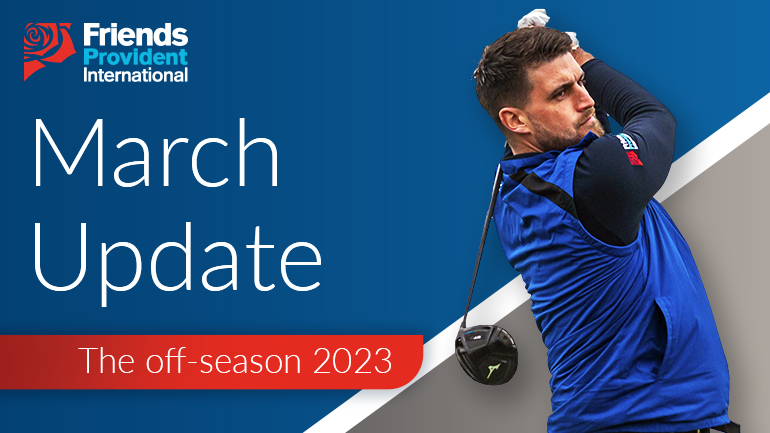 My off-season this year has been a little longer than previous years but I don't think that's a bad thing. It has given me plenty of time to develop my skillset and work on areas of my game that I've not been best pleased with. When you're competing, you always have to try and stay sharp and make the most of what you have that week to shoot the best score possible.
It's been nice being at home with my girlfriend Charlotte, although I'm sure I'm getting on her nerves by now! We've been doing about of work on our house which has given me a chance to switch off from golf and learn a different set of skills.
The off-season has been centred around trying to improve my mind-set and looking over my stats from last year to identify my weaknesses. I've been working on my short game – chipping, pitching and bunker play – something that I knew I had to improve in order to take my performances to the next level. I also spent a lot of time working on technique with my coach Graham, who is based in Chester, which I think is now at a great standard. I've had to tie all this in with my mental performance training.
Looking back at 2022, I'm really happy with how well I kept up with attending the gym. I was particularly happy with how I maintained, if not increased, my strength throughout the season which is something I and many others struggle with.
I also usually find it difficult to access gym facilities whilst away or finding the energy to go after a full day of golf. I'm sure a lot of people know that once you fall out of the habit, it's difficult to get back in, especially with the fear of muscle soreness and feeling physically able to compete.
The consistency paid off and I headed into the off-season stronger and faster than ever. I did however, continue to struggle with diet/nutrition whilst on the road. Being unable to cook for myself meant that less choice on what to eat and after a long day on the course, I end up very hungry and get my hands on whatever I can to fill me up! To stop this, I've been working with a nutritionist at IOM sport to encourage good eating habits to follow throughout this season. I'm about one and a half stone down in weight and much stronger compared to how I was at the end of last year – 2023 should see me fitter and stand me in good stead!
For now, I'll continue the hard work and transition to speed work training at the gym and in practice.
This should get me firing for competition like training such as one-ball practice.
My season should start in April with an event in Abu Dhabi, from there it will be full on as it always has been. I'll be playing most weeks right the way through to October/November time, by then I hope to have had some great results to share with you all!
Thanks again to Friends Provident International who continue to support me as my headline sponsor.
Here's hoping for a great year on the course!
Share this article:
Follow Tom on social media