Sarasin - House Report Q3 2022
Latest insights on the matters that impact your investments.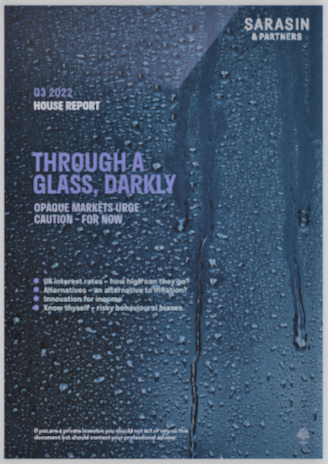 The first half of 2022 saw the worst start for US equities since 1970, with no single sector in positive territory except energy. We are by no means out of the woods yet, and markets may have further to fall.
So caution today, but as the economic glass starts to clear we explore the host of opportunities for long-term thematic investors in our latest House Report.
Contents:
Through a glass, darkly
UK interest rates – how high can they go?
Alternatives – an alternative to inflation?
Innovation for income
Charity Focus
Know thyself – risky behavioural biases
Important information: This document has been issued by Sarasin & Partners LLP which is a limited liability partnership registered in England and Wales with registered number OC329859 and is authorised and regulated by the UK Financial Conduct Authority. It has been prepared solely for information purposes and is not a solicitation, or an offer to buy or sell any security. The information on which the document is based has been obtained from sources that we believe to be reliable, and in good faith, but we have not independently verified such information and we make no representation or warranty, express or implied, as to their accuracy. All expressions of opinion are subject to change without notice. Please note that the prices of shares and the income from them can fall as well as rise and you may not get back the amount originally invested. This can be as a result of market movements and also of variations in the exchange rates between currencies. Past performance is not a guide to future returns and may not be repeated.